Biology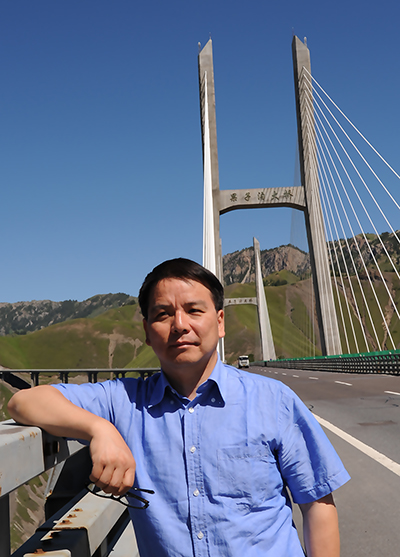 XUDONG ZHU
Professor
Professor and Director, Institute of Biochemistry and Biotechnology, College of Life Sciences, Beijing Normal University, Beijing
Education
Postdoc Scientist, 1999.2-2002.5, Northwestern University Medical School, Chicago, IL
PhD, 1994.8-1999.2, College of Agriculture and Life Sciences, Cornell University, Ithaca, NY, USA
MS, 1986.9-1989.7, Institute of Microbiology, Chinese Academy of Sciences, Beijing, China
BS, 1982.9-1986.7, Nankai University, Tianjin, China
Research Interests
Molecular biology of siRNAs in single-cell microbes; Fungal secondary metabolites and biotechnological application
Selected Publications
♦ Research Articles
1. Liu Y, Ma X, Zhou M, et al. 2020. An effective method to produce 7-epitaxol from taxol in HCO3 – . Bioorganic & Medicinal Chemistry Letters 30: 127285
2. Liu Y, Duan A, Chen L, et al. 2020. A Fungal Diterpene Synthase Is Responsible for Sterol Biosynthesis for Growth. Front Microbiol. 11:1426. doi: 10.3389/fmicb.2020.01426.
3. Zhang Q, Akhberdi O, Wei D, Chen L, Liu H, Wang D, Hao X, Zhu X. 2018. A MYST Histone Acetyltransferase Modulates Conidia Development and Secondary Metabolism in Pestalotiopsis microspora, a Taxol Producer. Sci Rep. May 29;8(1):8199. doi: 10.1038/s41598-018-25983-8.
4. Liang Huo, Ping Zhang, Chenxi Li, Kashif Rahim, Xiaoran Hao, Biyun Xiang and Xudong Zhu. 2018. Genome-Wide Identification of circRNAs in Pathogenic Basidiomycetous Yeast Cryptococcus neoformans Suggests Conserved circRNA Host Genes over Kingdoms. Genes 9, 118; doi:10.3390/genes9030118 www.mdpi.com/journal/genes.
5. Oren Akhberdi, Qian Zhang, Dan Wang, Haichuan Wang, Xiaoran Hao, Yanjie Liu, Dongsheng Wei and Xudong Zhu. 2018, Distinct Roles of Velvet Complex in the Development, Stress Tolerance, and Secondary Metabolism in Pestalotiopsis microspora, a Taxol Producer. Genes 9, 164; doi:10.3390/genes9030164, www.mdpi.com/ journal/genes.
6. Rahim K, Huo L, Li C, Zhang P, Basit A, Xiang B, Ting B, Hao X, Zhu X. Identification of a basidiomycete-specific Vilse-like GTPase activating proteins (GAPs) and its roles in the production of virulence factors in Cryptococcus neoformans. FEMS Yeast Res. 2017, 17(8). doi: 10.1093/femsyr/fox089.
7. Xi Yu, Heng Liu, Xueliang Niu, Oren Akhberdi, Dongsheng Wei, Dan Wang, Xudong Zhu. The Gα1-cAMP signaling pathway controls conidiation, development and secondary metabolism in the taxol-producing fungus Pestalotiopsis microspora. Microbiol Res. 203 (2017) 29–39.
8. Wang D, Akhberdi O, Hao X, Yu X, Chen L, Liu Y, Zhu X. Amino Acid Sensor Kinase Gcn2 Is Required for Conidiation, Secondary Metabolism, and Cell Wall Integrity in the Taxol-Producer Pestalotiopsis microspora. Front Microbiol. 2017 Sep 27;8:1879. doi: 10.3389/fmicb.2017.01879. eCollection 2017.
9. Wang Y, Wei D, Zhu X, Pan J, Zhang P, Huo L, Zhu X. A 'suicide' CRISPR-Cas9 system to promote gene deletion and restoration by electroporation in Cryptococcus neoformans. Sci Rep. 2016 Aug 9;6:31145. doi: 10.1038/srep31145.
10. Hu Y, Zhang W, Zhang P, Ruan W, Zhu X. Nematicidal activity of chaetoglobosin A produced by Chaetomium globosum NK102 against Meloidogyne incognita. J Agric Food Chem. 2013, 61:41-46.
Contact information
College of Life Sciences,
Beijing Normal University,
Beijing 100875, P. R. China
Tel. : +86-10-58804266
E-mail: zhu11187@bnu.edu.cn