Graduate
Disciplines and Research Fields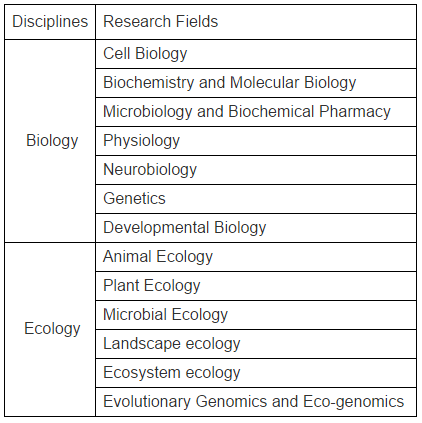 Disciplinary Characteristics
Biology: Emphasizing on "structure and function of macromolecules", "cell proliferation and regulation", and "inheritance and development of animals and plants", the postgraduate programs of biology have laid its foundation on the theoretical studies, technology innovations and applications, and fostering high quality graduates.
Ecology: Closely combining theoretical and applied ecological studies, and incorporating hierarchy levels of ecological systems, the ecology postgraduate programs have not only kept their traditional strongholds in animal physiological ecology and bird ecology by the accomplishment in artificial cultivation and field reintroduction of Tragopan caboti , but also well developed into theoretical ecology, molecular and evolutionary ecology, and integrated natural conservation aiming at protecting whole ecosystem featured by the flagship species-Amur tiger and Amur leopard. The latter has won several national prizes and attracted worldwide attention. The discipline targeting at upgrading faculty's innovation and practical ability has achieved remarkable results and won many national-level teaching awards. Several postgraduate courses and textbooks have become the national recommended classroom teaching resources.
Talent Training Objectives
Biology: Aiming at training high quality graduate students with international perspectives, the program adheres to the concept of "Honesty leading to integrity; Diligence resulting in erudition" as the educational guidelines. To ensure the balanced developments of knowledge, quality and academic uniqueness, the program focuses on promoting students' "wide vision, solid foundation, strong ability and high quality" by adopting various approaches, platforms and programs.
Ecology: Committed to foster world-class academics and practitioners with solid foundation, broad international horizons, and universally recognized academic standards, the program is rapidly in line with effective training approaches in terms of teaching materials and teaching methods. Numerous opportunities are available for the outstanding doctoral and MS students to attend international conferences, to join ever-increasing international research projects, and participate in various training programs. This will ensure our graduates to better able to play a role in internationally competitions.
Employment Opportunities
For doctoral graduates: Post-doctoral fellows in China and abroad, faculty and researchers in universities and institutes both at home and abroad, employment in government agencies, etc.
For master graduates: Continue their pursuit for doctoral degrees in China and abroad, high school teachers, technicians in the laboratories of universities and institutes, employment in government agencies, etc.